Image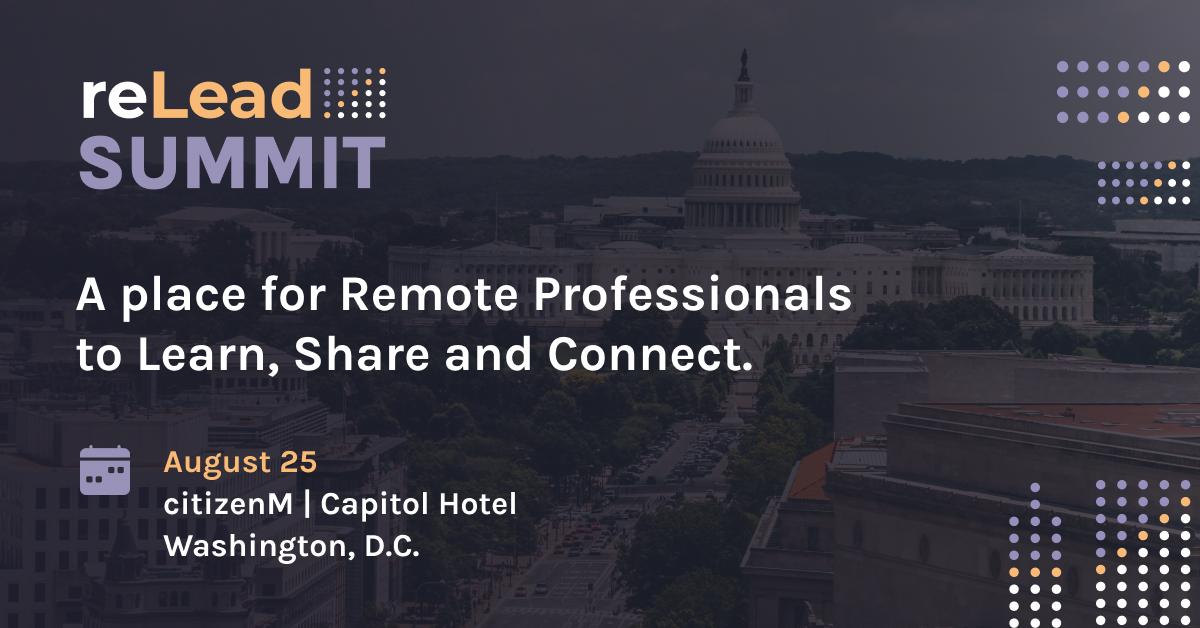 Leading remote work experts from around the United States will kick off the reLead Summit on August 24-25 in Washington, D.C. The inaugural event brings together remote thought leaders, innovators, and advocates for a two-day, retreat-style ideation summit focused on the future of remote work. These experts will break new ground in today's remote and hybrid-remote work concepts with an agenda that includes design-thinking brainstorming, roundtable discussions, breakout sessions, and a community networking event. 
Organized by the leading membership community for remote professionals, Remotely One, and hosted at the hotel venue citizenM Washington DC Capitol, the national innovation summit will include ideas and views on how the future of work will accommodate gatherings in 'third places,' including lifestyle hotel settings. 
According to The Brookings Institution, "third places," coined by sociologist Ray Oldenburg, refers to places where people spend time between home ('first' place) and work ('second' place). "Third places" are locations where we exchange ideas, have a good time, and build relationships."
Building and maintaining a connected work culture will be a significant discussion at the summit as remote work encompasses coworking, in-person group work, onboarding, company off-sites, and annual company retreats.
"Work from Anywhere or WfA employees are encouraged to work from wherever they are the most productive and comfortable. And doesn't 'anywhere' mean providing all options, including for in-person collaboration and group work?"
— Kaleem Clarkson, remote work expert and COO of Blend Me, Inc., Atlanta
The invite-only roundtable features a dozen of the nation's top voices on the future of work — a who's who group of thought leaders and innovators. Confirmed participants include PeopleG2 founder and WfA author Chris Dyer; Remote Work Association founder and expert Laurel Farrer; human-centered technologist and Magical Meetings author Doug Ferguson; and DEI strategist and remote work advocate Dethra U. Giles. 
A brainstorm is facilitated by Jason Feifer, editor-in-chief of Entrepreneur magazine and host of the podcast Problem Solvers. Other participants include Anebi Agb, Tammy Bjelland, Mary Brown, Hampton Clarkson, Nikhil Paul, Shelby Wolpa, Tara Vasdani, and Skye Osunde (Idehen).